Botswana
Kanye Manganese Project Highlights:
Land package containing several occurrences of high-grade manganese mineralisation potentially suitable for the high value battery market
Historic trenching results are reported to have yielded grab samples grading up to 74.2% manganese oxide ("MnO")
Project Area is close to the K-Hill manganese deposit where a TSX listed public company that has a preliminary economic assessment showing high rates of return based on a MnO grade of 27.3% has a full feasibility study under way (April 2021 PEA indicates an 80% IRR)
Reconnaissance mapping, prospecting and sampling work on the Kanye property since acquisition in February 2021 (through October 2022)

Up to four historic manganese occurrences were successfully located and sampled in the field within an 8km-belt
40 grab samples were obtained which assayed from traces up to high-grade results of 67.18% MnO occurring at the Moshaneng borrow pit and 68.01% MnO at the Mheelo prospect
Geological mapping indicates that the target horizon hosting high-grade manganese may extend continuously for at least 4km between the Loltware and Moshaneng prospects on the Bezant ground
Laboratory assays from trench sampling by Bezant at the Loltware manganese prospect (announced on 22/03/2022) returned in-situ chip/grab sample peak results of 41.4% MnO, 49.23% MnO and 40.83% MnO from one metre wide zones of siliceous manganese mineralisation within a continuously mineralised zone of 40m @ 11.53% MnO
At the Moshaneng Borrow Pit, excavation of shallow clays by a local contractor for road fill has exposed further manganese-rich pods over a width of approximately 12-15m and a strike length of about 300m within a continuous 2km long soil anomaly
Maiden drill testing for both the Moshaneng and Loltware targets commenced in October 2022
Work Completed
Work has focussed initially on PL 129/2019 close to the Giyani Metals K-Hill deposit where most of the known manganese occurrences are located.
Following on from field work referred to in the announcement of 24 June 2021, further site mapping and assessment visits were undertaken in late 2021 to the main previously identified sites with reported high grade manganese occurrences on prospecting licence 129 northwest of Kanye town. Of particular interest was the provisional identification of geological continuity between the prospects at the Moshaneng Borrow Pit and Loltware, over a strike length of about 4km. Bedrock exposure is limited in this area, but manganese occurrences appear to occupy the same stratigraphic horizon that hosts the Giyani Metals K-Hill manganese deposit to the south-east.
Soil sampling has supported the continuity of the Moshaneng-Loltware trend and has highlighted a 2km anomalous zone stretching southeastwards from the Moshaneng pit.
At the Moshaneng Borrow Pit, recent excavation by contractors for road material has uncovered additional exposures of manganese-bearing bedrock further to the northwest, with intermittent outcrop now extending over 300m, and not yet closed off in this direction. Maiden drill testing of the Moshaneng and Loltware occurrences commenced in October 2022.
Plan showing layout of Moshaneng Borrow Pit and manganese mineralisation: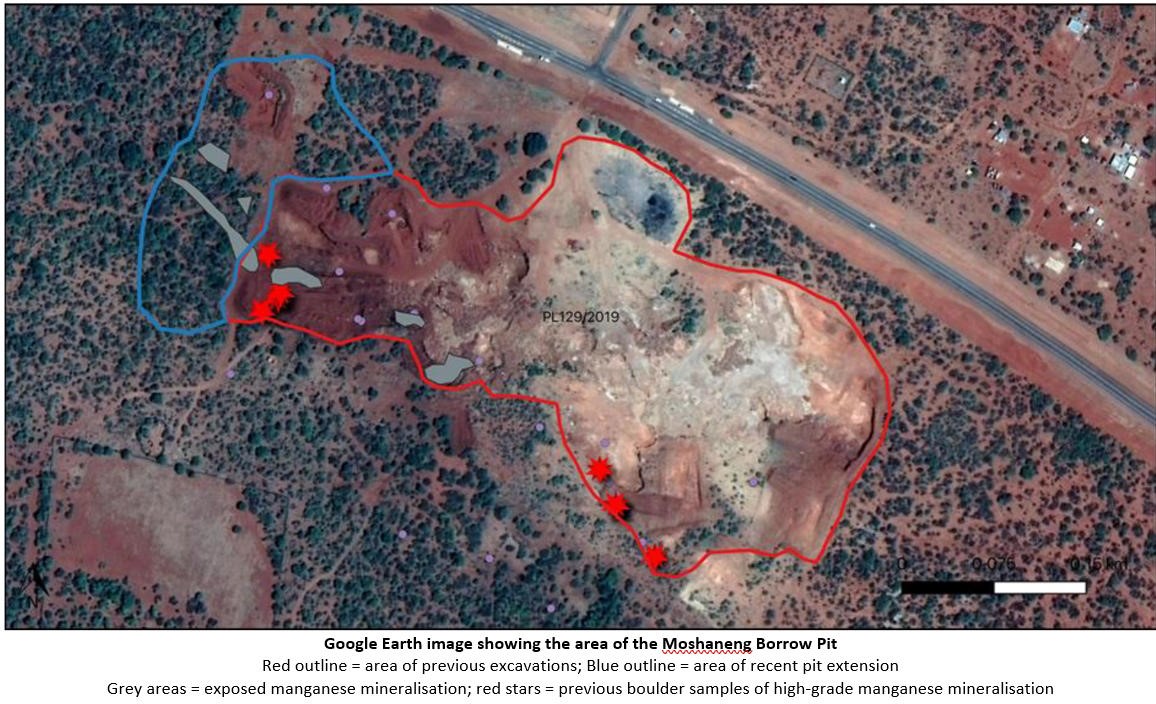 Manganese mineralisation exposed in the Moshaneng Borrow Pit: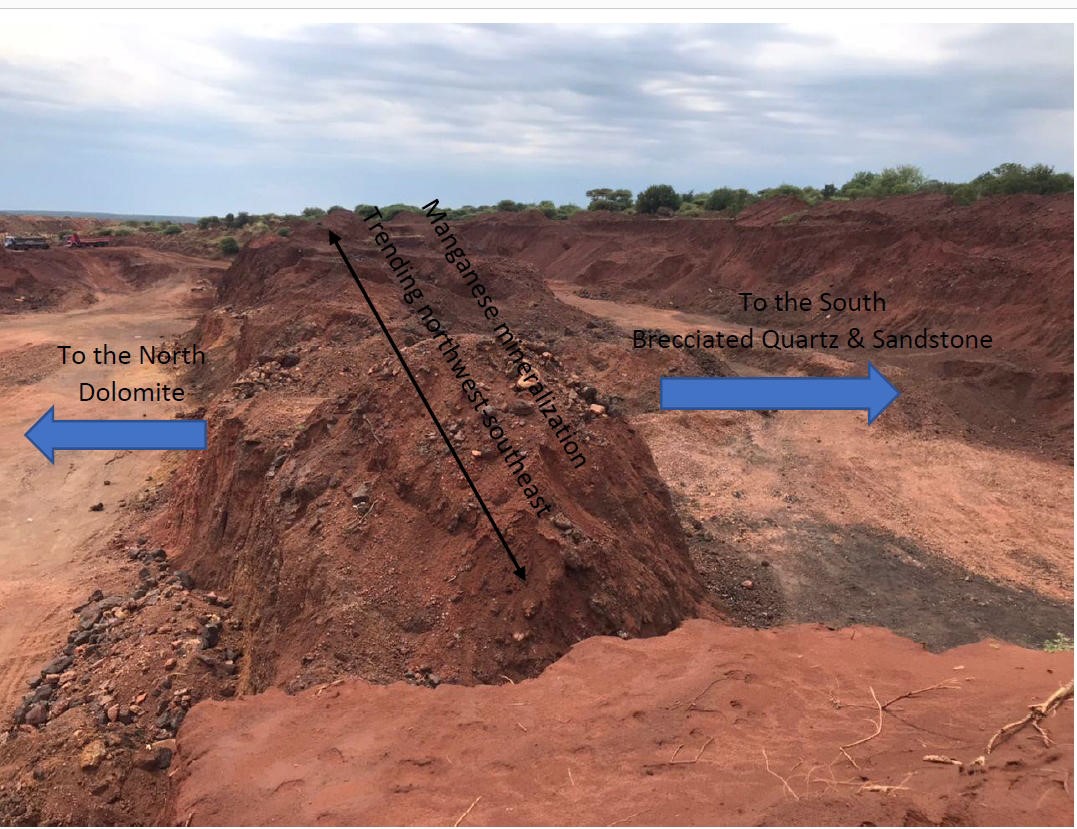 KANYE MANGANESE PROJECT PICTURES OCTOBER 2022
Background on the Kanye Manganese Project
Licences, location, ownership: The Kanye Manganese Project ("Kanye Manganese Project") comprises two current prospecting licenses, with several others in the renewal process (the "Project Licences"), located in south-central Botswana south of the town of Jwaneng, west of the town of Kanye and 150km by road from the capital Gaborone. The licenses are held by Cypress Sources Pty Ltd and Coastal Minerals Pty Ltd, which are 100% owned subsidiaries of the Bezant Resources group.
Geological setting: The target for manganese mineralisation is manganiferous shale horizons located on the contact between the Taupone Group and the underlying Black Reef Formation. This geological setting is similar to that of the Giyani Metals Corp manganese occurrences on their Kwgakgwe Hill (K-Hill), Otse and Lobatse projects which are located just a few kilometres off the Kanye property.
The most significant of these (K-Hill) comprises a manganese-rich black shale formation within the lower Taupone Group containing an Inferred Mineral Resource of 1.24Mt @ 27.3% MnO at a cut-off grade of 8.9% MnO prepared in accordance with Canadian National Instrument 43-101. (As reported by Giyani Metals Corp. in April 2020). A full Feasibility Study is under way on this project.
Previous exploration prior to acquisition: Previous exploration on the Kanye property has highlighted numerous manganese prospects which had not been systematically explored. These include: the Moshaneng Borrow Pit where a number of grab samples assaying up to 71% MnO are reported from massive manganese lenses; the Mheelo prospect, where reports mention that "pure manganese ore to a depth of 1.8m was intersected and the base of the mineralization was not reached". Historical channel samples on the Mheelo Prospect (located within PL129/2019) yielded grades of 53.1% to 74.2% MnO; the Loltware Prospect, approximately 4km to the west of Mheelo where historical reports note manganese outcrop with sample assays up to 43.6% MnO; the Lowe Prospect, comprised of chert that yielded historical manganese assay results up to 58.5% MnO; a local talc mine where six large bulldozed trenches are reported with historical sample assays up to 54% MnO.
Prospecting Licences: Prospecting Licences are issued for three (3) years with two (2) options to renew, each period not exceeding two (2) years, renewal applications are to be submitted no later than three months to the expiry of a Prospecting Licence. The holder of a Prospecting License is entitled to enter onto any land to which its Prospecting License relates and may prospect thereon for the minerals to which the Prospecting License relates, drill bore holes, make excavations, erect camps and put up temporary buildings for machinery necessary for prospecting purposes.
KEY TERMS OF THE ACQUISITION COMPLETED ON 11 FEBRUARY 2021
Parties: The Company completed its share purchase agreement with the Vendors on 11 February 2021 to acquire 100% of the issued share capital of Metrock (the "Sale Shares"). At acquisition Metrock through its 100% owned Australian subsidiary Coastal Resources Pty Ltd (ACN 624 968 752) owned i) 100% of Cypress Sources Pty Ltd incorporated in Botswana which owned PLs 377/2018, 378/2018, 379/2018, 420/2018, 421/2018, 423/2018, 424/2018, 425/2018, and ii) 100% of Coastal Minerals Pty Ltd Incorporated in Botswana which owned PL 129/2019.
Consideration: The initial consideration paid by Bezant at completion of the Acquisition ("Completion") was i) £405,000 by the issue of 150,000,000 Bezant Shares at a deemed issue price of 0.27 pence per Bezant Share ("Ordinary Shares Consideration"), ii) the issue of 31,800,000 Unlisted Options in the share capital of Bezant. The options have a strike price of 0.40 per share and an expiry date of 30 September 2024 ("Option Consideration"). The Company also issued a total of 84,597,407 Bezant Shares to acquire Loans of £198,213 and settle creditors of £30,200 owed by Metrock ("Loan Accounts Consideration Shares") (the "Consideration").
Deferred Consideration: Bezant has agreed to make a once off milestone payment to Breamline Pty Ltd and M&A Wealth Pty Ltd the original vendors of the Licenses (the "Original Vendors") should an Indicated Resource be delineated on any of Metrock's Prospecting Licenses (or on two contiguous licences) greater than 3 million tonnes of Manganese with a cut-off grade of 17% Manganese which can be refined into either Electrolytic Manganese Metal or Manganese Sulphate Monohydrate (the "Milestone Event"). Upon the Milestone Event, Bezant will issue £225 000 worth of Bezant Shares based on the 10 day VWAP prior to the announcement of the Milestone Event (the "Milestone Shares") with the Milestone Shares to be issued in equal portions to the Original Vendors.
Net Smelter Return: Metrock has agreed to pay a Net Smelter Royalty of 2% on the Manganese Assets to Tiger Royalties and Investments Plc (AIM:TIR) which may be bought back from the holder for £1 million or on a partial basis at a buy-out rate of £250,000 per 0.5% of the NSR.
Ongoing Project assistance: Metrock's management of Christian Cordier and Modisana Botsile continue to provide ongoing management services post completion of the Acquisition.
31 October 2022
---